Thanks for stopping by! In case we haven't met, my name is Dirk Hoag, and while I'm primarily known online for my hockey blogging, that's not what this site is all about. Well, not directly, anyway.
You might be wondering why the heck I launched another internet outpost, as I already have my hands full running On The Forecheck, which covers the Nashville Predators as part of SB Nation, and there's also Hockey Gear HQ, too.
So what can you expect to find here?
First, Let Me Help You "Work the Net"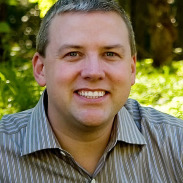 My main goal with this site is to help you attract an audience online. I've learned a helluva lot over the last several years as OTF has grown into a vibrant community of Preds fans, and those skills can be put to good use for anyone who wants to tap into the ever-growing conversation taking place online. From its humble beginnings as just another niche blog, OTF is now an award-winning site which typically draws over 100,000 visits per month during hockey season, despite serving one of the smallest markets in the National Hockey League.
Just as I've built up an engaged, loyal audience at OTF, I'd like to help you do the same.
Do you have a business with a website? Your site should act as a bridge leading customers to your door, but all too often I see sites which are hard to find, difficult to navigate, and leave a poor first impression on visitors.
That's where the name Working the Net comes in, which you see in the photo at the top of this page. Besides being a nod to my main plan of attack when playing hockey (when I score a goal, it's usually from within 10 feet of the net), this will be all about how to establish your online presence with the customers who are already out there looking for your products & services.
Just as in hockey, where it takes some hard work and smarts to get to the front of the net when goal-scoring opportunities arise, putting in that kind of effort with your online activities can yield tremendous dividends.
I want to help get your internet assets working actively for you – that could mean building an audience for your site, or driving customers through the door of your business. I'll share advice here on a regular basis, and offer consulting services for those who could use a helping hand.
Next, A Little Bit of Everything
I also wanted to set up a platform for writing about all sorts of non-hockey topics. Here, I'll feel free to sound off on pretty much anything I like (found using the Outta My Mind link in the navigation bar above), and in particular, what's going on here in the bustling little burgh of Nolensville, Tennessee (check out Living in Nolensville).
Since our family moved here in 2005, we have seen Nolensville grow tremendously, and are excited to see where our small town is going in the years ahead. This is a remarkable little place that won't be little for very long, so I'll do my best to share some of that story with you.
Make Sure You Come Back!
So take a look around, connect via the Twitter, LinkedIn, or Google+ buttons you see on the sidebar, or send me an email at dirkhoag@gmail.com with any questions you may have. This should be a lot of fun!