Are you and Instagram impresario, or a Facebook photojournalist? Rather than let your favorite photos linger in an online album somewhere, why not bring them to life?
It seems whenever I check in online, I see people sharing photos via Instagram or Facebook, and many of those photos are truly impressive works of art. If you express your inner artist through online photos, you can now celebrate that talent by creating a book of your favorites, thanks to the good folks at Blurb.
Blurb is a service that makes it easy for you to produce professional-quality photo books, by allowing you to import photos directly from your Instagram or Facebook account, and take advantage of templates covering a wide variety of styles. If you want to make money from photos, you can even set a price for the book and put it on sale at Blurb's website.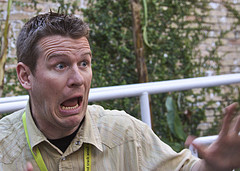 I first became aware of Blurb thanks to Dave Delaney, Nashville's social media & digital marketing guru. Dave was bitten by the Instagram bug quite a while ago, and recently decided to compile has favorites in a volume celebrating our fair city, entitled My Nashville (that's an affiliate link, so if you click through and buy, I'll receive a small commission).
I was especially surprised to look through My Nashville and find myself included – among his snapshots of life in Music City is one he caught of me in the crowd at a Nashville Predators game, sporting my #35 Forechecker jersey. The energy to be found in the crowd at Bridgestone Arena is one of the most distinctive in the entire NHL, and as a hockey blogger, I was happy to see Dave include a Preds game as part of his portrait of our city. OK, I won't lie – it was also a nice ego boost to see myself in there, too!
If you head over to Blurb, you can check out a 15-page preview of Dave's work, it's really impressive.
Even if you're not looking to make money from photos, you can simply make a date with your creative side, and produce the perfect gift for family, friends, or just yourself. Think of business clients or employees, for example – a photo book can be a great way to add a unique element to your relationship during the holiday season (yes, they have volume discounts available).


So consider giving a personal gift this holiday with Blurb's Custom Planners & Photo Books. Their beautifully designed photo book and weekly planner templates allow you to create a professional–looking, yet personal, gift for yourself or family, friends, co-workers, and clients. Go ahead and get started on your Blurb Custom Photo Book or Planner now!