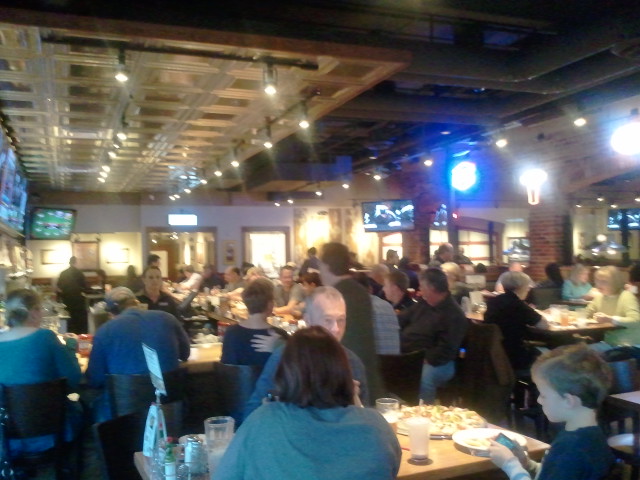 So this afternoon we had the family out in Cool Springs, brainstorming dinner ideas, when Amy suggested we try Old Chicago Pizza & Taproom, which recently opened on Cool Springs Blvd. (Google Map here), at the site of the former Omikoshi Japanese steakhouse.
We pulled up around 3:45 in the afternoon, and were a bit surprised to see the place filled up, but hey, it's the shopping season, so Cool Springs is crazy-busy. While we waited a few minutes for a table, I checked in on Foursquare, and when that message also went out on Twitter, I started getting enthusiastic responses back from followers:
@forechecker post a review afterwards.Been meaning to check it out.

— Kevin Dockery (@KevDock) December 8, 2012
Now there's an idea… they always say that the best way to get article ideas as a blogger is to keep an eye out for questions which are being asked, and answer them. So yes, why not turn our dinner into an impromptu restaurant review? Hey, there's a first time for everything, so here we go…
Try an Appetizer, Trust Me
Thanks to a suggestion from Alex Sears on Twitter, we had to try an appetizer:
@forechecker you won't regret a visit to OC! The pepperoni rolls are delicious! — Alex Sears (@KnightOfNi222) December 8, 2012
Yeah, Alex was right about this one. They've got these Sicilian Pepperoni Rolls, which are basically dough wrapped around some of the most flavorful pepperoni I've ever had, accented by some green onions. 3 out of the 5 members of our family can't stand onions, but that didn't stand in the way at all. Six came on the plate, so each of us enjoyed one, leaving our kids squawking like baby birds for the last one, which I then cut into thirds to keep the peace.
Comfortable Atmosphere, Killer Calzones
While making my way through the menu (a PDF is available here), I took stock of our surroundings, and was truly impressed. Like I mentioned, the restaurant was packed, but while there was a buzz of activity, the booths were cozy enough that we could all talk to each other easily (I can't stand places that are so noisy that you can't hold a conversation with someone across the table).
There was a real mix of diners – groups of younger adults, couples, and many families like ours. Playing in the background was a steady rotation of 90's music like B-52's (Roam) and Blues Traveller (Hook) to keep us parents happy, while my boys battled via the trivia game you could follow on one of a zillion TV's throughout the place. The bar area would be a great place for game-watching, with screens in every direction, and there are even some in the outdoor seating areas and bathrooms.
When it came time to make a dinner choice, I went with the Classic Calzone, a monster of a meal that hits all the right notes. Pepperoni, sausage, mushrooms, basil… you just can't go wrong with goodies like that.
Genuine Chicago-style Pizza
Amy tried an individual-sized thick-crust pizza with smoked bacon, and maybe it had something to do with the fact that we had an appetizer, but it was nice to have that pizza delivered right in time with the rest of our food (I'm used to deep-dish pizzas taking 30-40 minutes or more).
Since this was in the interest of writing a review, I had to try a bite. Oh yes, it was real, and it was spectacular.
Save Room For a Cookie
As we polished off our plates and the strains of Soul Asylum's "Runaway Train" came on (a paragon of Whiner Rock, but that's just my personal beef), our server tempted us with dessert, and again, since this was for the purpose of providing a review for you, Loyal Reader, we went that extra mile.
We tried the chocolate chip oatmeal cookie, which comes in a 9″ pizza pan, straight from the oven. I'm not a huge dessert eater, but there isn't much better than fresh, warm cookies.
Just as with the pepperoni rolls, this serves 6, so in a flash, our crew of 5 had downed one each, leaving it to me to split that last slice into three so the kids wouldn't go to war over it.
Not Too Damaging On The Wallet, Either
Perhaps the biggest surprise came with the final check – despite getting both an appetizer and dessert (usually we don't do either), the bill was right in the ballpark with other places we might hit, like Swanky's, Chuy's, etc. (again, check out their menu for an idea on prices). The kids meals are $4.29 including the drink, and they offer a nice selection for them to choose from. How many times have you taken the kids out, and they just don't want to go with the chicken fingers or grilled cheese you see on most kids menus?
So again, recalling those responses I got on Twitter at the start of our meal:
@forechecker let me know the verdict.

— John Cartwright (@jackmac) December 8, 2012
The Verdict?
The food was great (when all three kids clean their plates that's a Win in my book), the atmosphere was really comfortable and stimulating at the same time (if you just want to talk, you can, if you want to watch a game, you can do that, too), and the prices were very reasonable. You can bet we'll be back…
Did you enjoy this article? Please share it with your friends using one of the buttons below…