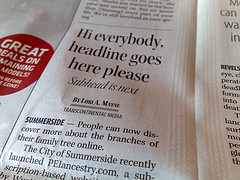 Are you looking for advice on how to grow your online audience? Good, this means the headline above did exactly what it was supposed to, and brought you to the right place.
I was fortunate enough to be interviewed recently by Jamie McGee of the Nashville Business Journal about hockey blogging (since the NHL season recently opened), and as part of that article I was asked to share some tips on blogging. While a few bullet points at the end of a Q&A can be helpful, I thought it worth expanding on those topics in this space.
Let's take this one, for example:
2) Clear headlines. Put pithy one-liners in the story, but leave them out of a headline. It will distract the search engine and yield fewer hits.
Why Blog Headlines Matter More Than Ever
In olden times, a bold newspaper headline had to grab the attention of someone walking by a news stand. Today, however, the equivalent to a news stand is the raging river of online information, whether it takes the form of a social media stream like Twitter or Facebook, or the constantly shifting waters of search engine results.
There is so much material out there these days that half the battle is just getting a reader to walk by the news stand that contains your work. To do that, your headline is one of the best ways to make it clear for both human and automated readers what your content is about, and why they should check it out.
In most situations, the title of your article is what shows up in the search engine results when a potential reader goes a-searching, so a crystal-clear, relevant headline is important for two reasons:
the search engine (Google, Bing, whatever) needs to understand when and where to show your post in the results, and the headline is one of the primary signals you provide in that regard
readers skimming through a search engine results page are actively seeking information – does your headline lead them directly to what they're looking for?
An Example of How NOT To Write a Headline
Too often, I see writers who have a joke they want to share about the subject at hand, but by making it the headline, only their most loyal readers will bother to click through and actually read the article. Inside jokes are a great way to build community on a blog, but when they're used as a headline that's a sure way to turn away most (not all, but most) new visitors.
Let me share a personal example of how bad a headline can truly be, from my earlier hockey blogging days.
For NHL fans, summer is actually one of the most exciting times of the year. Sure, the Stanley Cup champion has been determined weeks before, and the next season is months away, but the Free Agency period means that major deals take place with star players moving from one team to another, radically reshaping the competitive environment. The league used to open the Free Agent season at midnight on August 1, but in 2005 they changed the starting point to noon instead.
On that occasion, I wrote a quick post at my hockey blog, joking that perhaps the guys at the league office must have had an ulterior motive for pushing the start of the work day until noon:

Can you guess the problem here?
Let's just say that for years, I had readers arriving at that post who were searching for "hung dudes" in Google, and let's just say I don't think they found what they were looking for.
How You SHOULD Write a Blog Headline
For the sake of both your readers and those potential readers searching on the web, your headline should clearly communicate the topic at hand, and give a hint as to why your article is relevant. There is still room for witty commentary, but leave it towards the end.
Let's take my example above, and see if we can refine it.
NHL Free Agency: League Moves Starting Time to Noon
NHL Free Agency 2005: No More Midnight Start
NHL Changes Free Agency Start Time – Are They Sleeping In?
You can try a zillion different variations, but the priorities are pretty simple:
Identify the 2-4 words that describe the topic, and make sure they are towards the beginning of the headline

Follow up that topic with something that conveys the hook of your story – the breaking news, a question that is raised, etc.
If you must include a joke or pun, leave it at the end
The next time you're getting ready to publish a new blog post, take a moment (or two, or three…) to reconsider your headline and try to make it as clear and appealing as possible for first-time visitors. Keep those potential new readers in mind, and who knows, they might actually show up, in bunches!
For further tips on headline writing, I'll point you to this article at ProBlogger, and the Headlines category page at CopyBlogger, which is absolutely loaded with juicy stuff.
Good luck!