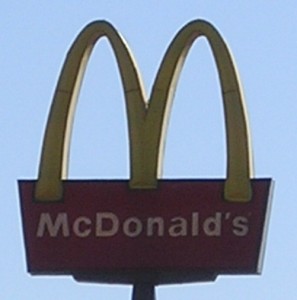 The Mill Creek Towne Center, located in Brentwood (just north of Nolensville) along Nolensville Road, is continuing its growth with a McDonald's being built alongside the Taco Bell which opened just a few months ago. Some people aren't crazy about this development for various reasons: they may object to the quality of the food, or feel that it doesn't appeal to the upscale aspirations of Brentwood & Nolensville residents.
The problem is, nobody actually wants to admit to enjoying McDonald's, let alone be caught eating at one, as Jim Gaffigan perfectly illustrates in his hilarious stand-up special Mr. Universe:
All kidding aside, however, a McDonald's can serve as an important link in the economic drive train that powers a community. For consumers, it delivers a reliable product at the lower end of the food market (yeah, it's not the best for you, but it is cheap & quick), while for workers it provides a number of stable jobs. For some, it can also serve as an opportunity to establish a foundation for their later careers.
I've seen this process up close, as my brother Bret worked at a McDonald's during his college days, hustling his butt off and putting in every hour he could to learn all aspects of the operation. He earned his first management opportunity there and developed the talent for not only paying attention to detail, but establishing a culture among his team that demanded such attention from every employee. Whether dealing with fast food or haute cuisine, the principles of executing your plan properly and providing great customer service are universal.
That experience served him well, and a few years later he was on his way to managing restaurants at Four Seasons Hotels, first in Chicago and then later in Tokyo. It took a great deal of hard work and dedication for him to make that sort of progress, but the lessons learned running a McDonald's from open to close helped launch him on that path.
Of course, not every McDonald's employee will go on to that kind of success, but for many it does represent a career launching pad, whether in the restaurant field or elsewhere, thanks to the structure that the franchise can provide as opposed to a pure "mom-and-pop" startup.
If you're looking for that kind of job, head over to their website and give it a shot. Who knows, maybe I'll see you there as I swing through and pick up some breakfast one morning. I have a weakness for Sausage McMuffins with Egg, and those Hash Browns… (drool)