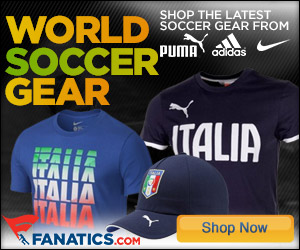 As we approach the final two days of World Cup 2014 Group Play, our Pick 'Em contest is still up for grabs. The prize, as you'll recall, is a $50 gift certificate to the Nashville Predators Pro Shop (good until 12/31/2014), and right now it looks like a pretty wide-open race, as six contenders are all within two correct picks of each other. Remember, if there's a tie, I'll pick a winner at random for the gift certificate.
Note: the picture below will update dynamically as the games complete and I update the Google Spreadsheet online!

As for the rest of the games, and how they'll impact our finish? I've included a table of the remaining picks below, so you can keep up with all the action. The USA/Germany game on Thursday might well make the difference here!
| | | | | | | | | | |
| --- | --- | --- | --- | --- | --- | --- | --- | --- | --- |
| Name | Score | Honduras vs Switzerland | Ecuador vs France | Nigeria vs Argentina | Bosnia vs Iran | USA vs Germany | Portugal vs Ghana | South Korea vs Belgium | Algeria vs Russia |
| Amy Hoag | 24 | Honduras | France | Argentina | Iran | USA | Portugal | South Korea | Algeria |
| Brad Beatty | 23 | Switzerland | France | Argentina | Bosnia | Germany | Portugal | Belgium | Russia |
| Josh Burnett | 22 | Draw | France | Argentina | Iran | Germany | Ghana | Belgium | Draw |
| Josh Wayman | 22 | Switzerland | France | Argentina | Bosnia | Germany | Portugal | Belgium | Russia |
| Kelly | 22 | Draw | France | Argentina | Bosnia | Germany | Portugal | Draw | Draw |
| Kenneth Smith | 22 | Switzerland | France | Argentina | Bosnia | Germany | Portugal | Belgium | Russia |
| Aaron Gant | 21 | Honduras | France | Argentina | Draw | USA | Portugal | Belgium | Draw |
| Angela Hart | 21 | Draw | France | Argentina | Draw | Germany | Portugal | Draw | Algeria |
| Haines Hoag | 21 | Switzerland | France | Argentina | Bosnia | Germany | Portugal | Belgium | Draw |
| Jesse Hedges | 21 | Draw | France | Argentina | Bosnia | Germany | Draw | Belgium | Draw |
| John Quayle | 21 | Switzerland | France | Argentina | Bosnia | Germany | Portugal | Belgium | Russia |
| Eric Dunay | 20 | Switzerland | France | Argentina | Bosnia | USA | Portugal | Draw | Algeria |
| Harrison Hoag | 20 | Switzerland | France | Draw | Bosnia | Germany | Ghana | Belgium | Russia |
| Jason Brunner | 20 | Switzerland | France | Argentina | Bosnia | Germany | Portugal | Belgium | Russia |
| Jes Golbez | 20 | Draw | France | Argentina | Bosnia | Germany | Portugal | Belgium | Russia |
| Manuel Lopez | 20 | Switzerland | Draw | Argentina | Draw | Draw | Portugal | Belgium | Draw |
| Dirk Hoag | 18 | Draw | France | Draw | Bosnia | Germany | Portugal | Belgium | Draw |
| Hillary Hoag | 18 | Switzerland | France | Argentina | Iran | USA | Portugal | South Korea | Russia |
| David Bennett | 17 | Switzerland | France | Argentina | Bosnia | Germany | Draw | Belgium | Draw |
| John Hart | 17 | Switzerland | France | Argentina | Bosnia | Germany | Portugal | Belgium | Draw |
| Zach Delph | 16 | Honduras | France | Argentina | Iran | Germany | Portugal | Belgium | Russia |
| Jeff Loudon | 13 | Switzerland | France | Draw | Draw | Draw | Portugal | Belgium | Russia |