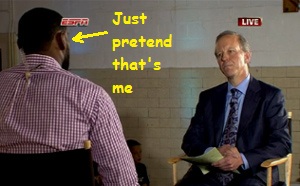 Since Jim Gray isn't presiding over LeBron James' free-agency spectacle this time around, I invoked the spirit of "The Decision" from 2010 to share some exciting personal news today… (NOTE: the Jim Gray part is parody, but the "decision" below is very, very real!)
Jim Gray: Everybody is on pins and needles across the country, particularly those firms who are in the running for Dirk Hoag.
Are you ready to go Dirk? Where is the powder?
Dirk: Powder? What are you talking about? I don't smack powder on my hands like LeBron, that would pretty much ruin a laptop in one shot.
Gray: What's new? What's been going on with you this summer?
Man, this whole job search experience, looking forward to it.
Gray: What have you thought about this process?
This process has been everything I've thought and more. And that's what I did a few years ago; I put myself in a position to have this process where I can hear companies' pitches and figure out what was the best possible chance for me to move my career forward and to ultimately make me and my family happy.
Gray: LeBron James wasn't recruited for college basketball because he went straight to the NBA from high school, but you've been through job searches before. Have you enjoyed this recruiting process now?
I have enjoyed it. And I want to thank all the companies and recruiters that I had an opportunity to sit down with, even the ones who don't know their M3 from their S3 or an ERP from a WMS, and hear what they had to say. And my team, they hear what we had to say also.
It's been an unbelievable experience, a real humbling experience to be even to be in this position.
Gray: What did you expect? Because we've seen 30 foot billboards. We've seen firms clear out all kinds salary space. We've seen cartoons made about you and for you in part of their pitch. President Obama, for crying out loud, seven times has commented that he'd like to see you go to Chicago. What did you expect from this process?
Well, certain things like that is one thing you can't control. But I expected to be able to go through this process and be able to sit down with my team and sit across from companies to hear how they feel with me being a part of their team, could help them succeed and could ultimately help others win.
Gray: How many people know your decision right now?
Not many. It's a very, very small number. And I probably could count them on my fingers.
Gray: One hand or two hands?
Let's say two.
Gray: When did you decide?
I think I decided last evening. I mean, I decided last evening but things went day to day for a while. I wake up one morning, it's this direction. I wake up another morning, it's this direction. And it's a process that I felt it was I may feel like this is the best opportunity for me or not the best opportunity for me.
But last evening, I had a great conversation with my wife and kids. Once I had that conversation with them, I think I was set.
Gray: So does the company that you're going to, that you'll announce in a few minutes, do they know your decision?
They found out last night.
Gray: They found out last night?
Yeah, that's what I said… do you have talcum powder in your ears from all those talks with LeBron?
Gray: So the other firms, on pins and needles, they don't know; they'll be listening to this?
Right.
Gray: Who in this process, Dirk, have you taken advice from and who has had the biggest influence?
I've taken a lot of advice from my friends and family. A lot of people that I look towards in a time of need or for advice, and ultimately they looked at me and said you ultimately have to live with your decision that you're going to make, and you have to do what's best for you, for your family and for you to ultimately be happy.
Gray: What was the major factor, the major reason in your decision?
I think the major factor and the major reason in my decision was the best opportunity for me to move my career forward and do interesting, impactful work and to develop in the future also.
Helping businesses effect major change is a huge thing for me. Jim, you know ever since I was a rookie or even in high school, we always talked, that was the number one thing for me: Help my teammates get better and just wanting to succeed. And I've done some great things in my career, and I want to continue to do that.
Gray: How deep of an evaluation do you have to do to go through that to figure out tomorrow, next year and beyond, that equation, that winning?
One thing that you can't control is you never know. You never know. You want to put yourself in the position where you feel that it's the best opportunity. But saying I can win a championship next year or saying I can win it a year after, those are things that you don't know until you go out there and actually deliver results.
But you have to put yourself in the right position to be able to succeed and also accomplish the goals that you set out for.
Gray: Do you have any doubts about your decision?
No. I don't have any doubts at all.
Gray: Would you like to sleep on it a little longer, or are you ready to make this decision?
I've slept enough. Or the lack of sleep.
Gray: You've had everybody else biting their nails. So I guess it's time for them to stop chewing. The answer to the question everybody wants to know: LeBron, what's your decision?
In this fall… this is very tough… in this fall I'm going to take my talents to South Jersey and join Conigent as a Senior Business Analyst.
Gray: Conigent? That was the conclusion you came to last evening?
That was the conclusion I arrived at last evening. You really should get your hearing checked, Jim.
Gray: Why Conigent?
Like I said before, I feel like it's going to give me the best opportunity to succeed and to succeed for multiple years, and not only just to deliver outstanding results but play a role in a growing organization, building on my background with M3 implementations and over a decade of ERP-related experience. And I feel like I can compete over there.
Gray: How do you explain this to the people in Nolensville?
I mean, it's heartfelt for me. You know, it's hard to explain, but at the same time my heart, in the nine years I spent in that town, it was everything.
I mean, those 5,000-plus neighbors that make up this community, and they seen me grow from a 37-year-old kid to a 44-year-old man. And I never wanted to leave Nolensville. And my heart will always be around that area. But I also felt like this is the greatest challenge for me is to move on.
Gray: What was the major reason for leaving Schneider Electric, where you've worked since 2008?
I don't even see it it's not like leaving Schneider Electric is the whole logistic of it; it's about joining forces with another team that I feel like I respect their game the most. And I feel like we have a great chance of succeeding, succeeding for multiple years.
Like I said before, this is a very emotional time for me. I know it's emotional for the fans and also for the area. And if it was a perfect world, I would have loved to stay, because we've had so many great times in this town. But I feel like it's time to change.
Gray: Ever want to go through this again?
This is tough. This is very tough, because you feel like you've let a lot of people down. You've raised a lot of people's expectations also. But it was a tough decision, because I know how loyal I am.
And one thing that guided me through this process and what ultimately helped me make my decision is you have to do what's best for you and your family, because no one can live with the consequences or anything that comes with your decision besides you.
—————
Seriously, this is an exciting opportunity for me and the whole family, as we're pulling up stakes and heading off to the East Coast. Wish us luck!