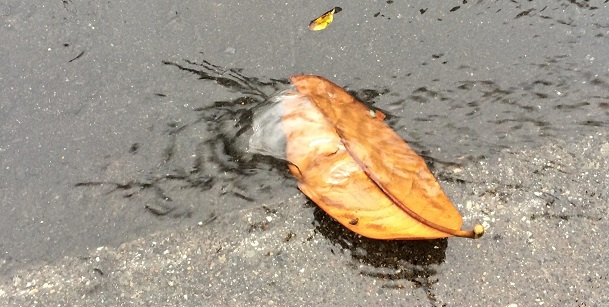 Ready for another Tiny Writing challenge? Today's challenge takes us into macabre territory…
My source for these prompts is a fun little book, 642 Tiny Things To Write About, from the San Francisco Writers' Grotto. Rather than simply scribble these exercises in the book I'm doing them here on my site, and I invite you to participate as well; either in the comments on this site or by sharing your reaction using the Twitter or Facebook buttons below.
Tiny Writing Prompt
Give us the first sentence of this story: you're walking down a quiet street and you notice a body lying in the gutter. You don't know if the person is dead or alive.
My Response
"Taking a walk on that rainy morning was a desperate attempt to clear my head; I marched along at a steady pace with my hood pulled up and hands in my pockets as the world turned gray around me, so all-consuming gray that it was a shock to the senses when the little river in the gutter began to run red with blood."
Want to take a shot at some tiny writing of your own? Sound off in the comments below!