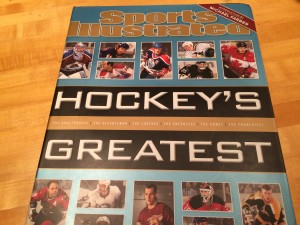 Are you looking for a memorable gift for the hockey fan in your life? I can highly recommend you check out Hockey's Greatest, a captivating coffee-table book from Sports Illustrated featuring an introduction from NHL writer extraordinaire Michael Farber. SI was good enough to send me a review copy of this heavyweight 256-page tome, which carries a list price of $32.95.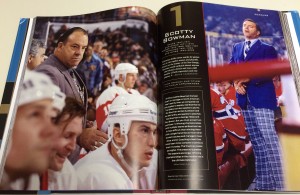 Simply put, this book is a prime example of what a top-notch, professional organization can produce by playing to its strengths. The bulk of the written content is broken down into a series of Top 10 lists, the kind that provide fodder for endless conversation among hockey fans, and these lists drawn upon both the breadth of the game's reach (among the Top 10 Rivalries is that between the US and Canadian womens national teams) and its historic depth (Howie Morenz comes right before Sergei Fedorov on their Greatest Skaters list).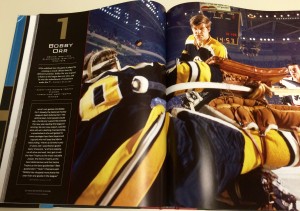 With Sports Illustrated the real draw is the photography, which not only showcases the beauty of the game, but also gives us a glimpse into our past. For example, this shot of Bobby Orr wonderfully highlights his ability to focus amid the frenetic scramble around the Boston goal crease, but check out the MasterCharge ad on the scoreboard above (When it has our name on it, it's "gooder"), or examine the crowd behind the net in the picture below as Gordie Howe scores a big goal. You can click on each photo here for a better view.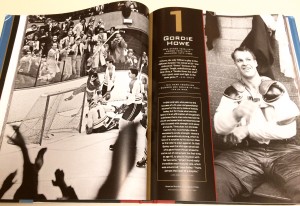 The best part about a book like this is its timeless nature – it will remain as engaging a year or two (or ten) from now as it is today. Of course you won't agree with many entries on the various lists, but that's the entire point. Hockey's Greatest isn't a self-contained piece of work meant to be consumed, but is rather a jumping-off point for conversations about the game that will span generations.
Don't believe me? Try telling your hockey-loving grandparent that Luc Robitaille placed ahead of Ted Lindsay on the Greatest Left Wings list, and watch out lest they bust you in the chops like Terrible Ted back in the day!
You can find Hockey's Greatest at Amazon.com, as well as your local bookstore.