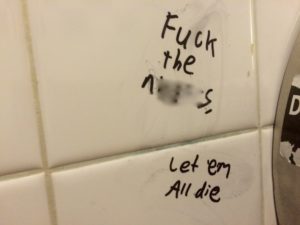 Race relations are once again at the forefront of American political and social discussion these days. Whether with regard to the criminal justice system and #BlackLivesMatter, or the continuing battle over the Voting Rights Act, race continues to be a focal point for some of the most heated debates of our time.
Are You Sick of Hearing About Racism? Too Bad
I know a lot of people wish such uncomfortable talk would just go away, but the sad reality is that we haven't yet reached that place as a country where everybody can "just get along" as Rodney King once said. There is still a nasty, brutish undercurrent of racism found in too many sectors of public and private life, and we have a great deal of work to do before we realize the vision outlined in the Declaration of Independence, a society which regards "all men" as being "created equal" (hmm… it looks like we also have some work to do on sexism as well).
Today I took my family to lunch at a diner in South Jersey, and when I went into the bathroom I saw the horrifying message above scrawled on the wall (I've smudged out the worst, but you can tell from my photo what it says).
My heart sank when I saw this. I can only imagine what an African American father might think if he saw that same thing; and what if his children were with him?
As we left, I made sure to speak to an employee and make sure this was taken care of immediately. How long had that message been there, however? Had anyone spoken up previously? I can only guess, but I hope it wasn't long.
I know, I'm just one guy sharing one anecdote from one town in one state, maybe this is all overblown, right?
Apparently David Duke doesn't think so. The former KKK leader is suddenly running for Senate, hoping to ride a rising tide of white discontent into Washington.
I hope he's wrong about the level of support for his hate-filled, divisive ideology. But I do worry.