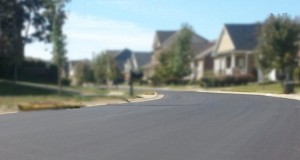 There's nothing quite like the sound of a new coat of asphalt cooling & settling into place. It's like a road made of sizzling bacon.

I happened to arrive home from work last week just as a work crew was smoothing out a fresh street surface right in front of our house, so I had to park my car further down the block due to all the equipment. As I strolled down the sidewalk, that crackling sound took me by surprise, and only heightened my anticipation to try the new blacktop out.
After seven years of living on the same street here in good old Nolensville TN, we finally had a nice, smooth road to call our own.
Big deal, you say? Why yes, yes it is!
Our family moved here in 2005 from Indiana, and rented a house in the growing subdivision of Bent Creek for a couple years. As a new section opened up for development, we jumped on the chance to buy the last lot backing up to a generous green space, and built our current home. It was pretty odd to move all of our stuff across the street and down only 5 or 6 houses, but it was an easy decision. Nolensville has been a great place to live, and the Bent Creek neighborhood is loaded with a mix of both local families, and those who have recently moved to the Nashville area.
With new home construction still taking place, we had to make do with the  initial paving of our street. It was in pretty rough shape after years of heavy trucks wearing it down, but now that the last house on Sawmill Place has been completed, the last few weeks have seen a different kind of activity instead. Road crews tore up the old surface, and poured a smooth, aesthetically-pleasing coat of asphalt for us to enjoy.
Yes, there were some inconveniences to deal with along the way (some work disturbed a small portion of our yard), but they were well worth it.
My dog Scout immediately took to the new surface – when I walked him that evening, he refused to stay on the sidewalk, and wanted to strut down the middle of the avenue like he owned it. Neighbors beamed with pride about our new road, and there is already talk of the high-quality street hockey which is sure to come.
A Road To… Well… Everywhere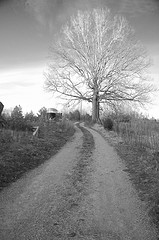 The thing that really struck me, however, is that we Americans too often take our public infrastructure for granted. Safe, reliable roads make so many things possible in our modern lives, such as the presumption that you can pretty much get from anywhere, to anywhere, and have a reasonable guess at how long the trip will take. Not only is that a great personal convenience, but it is an essential underpinning of the connected economy that defines our lives. School buses can run on schedule, trucks can deliver goods daily to the stores and restaurants, and emergency equipment can get to the scene quickly when danger calls.
So the next time your commute is slowed by the presence of a road crew, take a moment to appreciate the marvel that is our modern-day transportation system. As dear old Bilbo Baggins says, "you step into the Road, and if you don't keep your feet, there is no knowing where you might be swept off to."