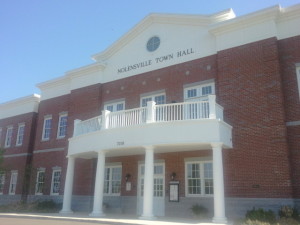 Nolensville's potential for modern development is a topic I've discussed previously on this site, and the balancing act which the town must achieve to maintain its historic identity while welcoming new residents and businesses is its biggest challenge in the coming years.
Growth can be tremendously positive for the community, offering services and employment to its residents that today require trips to Smyrna, Cool Springs, or the south side of Nashville.
Our little town's growth surge was recently featured in a story on NewsChannel 5, which you can see in the video below:

Nobody wants to see Nolensville become just another spot on the map, and that's where the care of the historic district plays such a pivotal role. I say "care" because it's not just about preservation, but also development with a sensitivity to Nolensville's character. You shouldn't resist change entirely, even within that protected area (a good example being the Metro sewer hookup achieved in the last few years). There is potential for further steps to make that area more inviting to visitors, such as paved parking lots instead of loose gravel, and walking/bike trails to better connect the historic district to nearby neighborhoods like Bent Creek, Ballenger Farms and Stonebrook.
To me, the history of Nolensville is really embodied in its people and its long-standing institutions, such as schools, churches, and community events like the Buttercup Festival or Veterans Day Parade. Look for commentary in the video above from Dot Arnold around the 43 second mark – she played a big part in the creation of a quilt presented at the 175th anniversary luncheon for Nolensville First United Methodist Church.
That's the stuff of history.
That's Nolensville, and it will continue to be Nolensville, even as we see this town continue to grow in the years ahead.
Are you concerned about the impact all this growth is having on the character of Nolensville? I'd love to read your thoughts in the comments below.