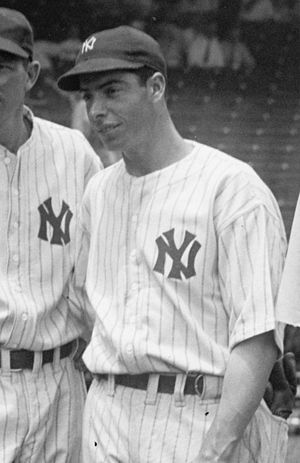 Joltin' Joe DiMaggio was one of the greatest athletes in baseball (if not all of American) history, not only because of his tremendous athletic accomplishments but for the character and bearing for which he was so widely admired. Even though he died in 1999, he has much to teach bloggers and other online publishers about how to build a lasting legacy.
One of DiMaggio's most famous sayings perfectly sums up the professional work ethic that defined his Hall of Fame career:
When asked why he hustled on plays that had little effect on a game's outcome or on his team's standing, Joe replied, "Because there's always some kid who may be seeing me for the first time. I owe him my best."
While DiMaggio was referring to the self-motivation to give his best effort on a daily basis, there are broader lessons here which are well worth considering for anyone who creates content on a regular basis, such as bloggers, professional writers, or even social media practioners.
As we continue to refine our craft and dig deeper into the area of our individual expertise, it's easy to lose sight of the fact that there are first-time readers coming across our content on a daily basis. While we don't need to water down our writing to the point where we remain stuck at the "101" level, it's worth keeping those folks in mind, if we wish to continue developing a strong community of readers.
Roll Out the Welcome Mat
Allow me to share a personal example. My main online outlet is OnTheForecheck.com, a thriving online community of Nashville Predators fans which I've run since 2005. Since we cover a relatively small-market team in the world of professional hockey, you would think that our readership is a pretty cozy community, and especially when you dig through some of the comment threads it would be easy to believe that most of our readers are of the deeply-engaged, stop-by-every-day variety.
But you'd be wrong. Looking at my Google Analytics data for the first five months of 2013, we get 3 new visitors at OTF for every 1 who has been there before. As much as we build off the discussions which take place in the comments or in articles on other local blogs, the bulk of our readership is new to OTF on a daily basis.
So how do we keep our loyal returning visitors engaged, while providing an opportunity for newbies to get up to speed? Fortunately, web publishing is ideally suited to this problem – instead of having to introduce an in-depth topic and risk boring your regular readers, you can simply provide a link to a FAQ page to help the neophytes. Linking to previous work not only helps provide context for those who are foreign to the discussion at hand, but it also helps these new readers explore your work, and perhaps get engaged enough to subscribe to your social media channels like Twitter or Facebook.
Now, Put A Welcome Mat in Every Room
While we design websites around the model of a front page through which we expect new visitors to arrive, the reality is that search engine traffic drives new visitors to every nook & cranny of our sites, with only the minority actually walking through our "front door". Once again using Google Analytics, I was a bit surprised to see the difference between the Landing Page that New visitors typically hit as opposed to Returning:
| | | | |
| --- | --- | --- | --- |
| | Home Page | Total | Portion of Visits to Home Page |
| Returning |           67,484 |            90,036 | 75% |
| New |           88,506 |          278,612 | 32% |
When you think about it, this makes sense – our returning visitors are most likely to have our sites bookmarked in their browser, or know the address well enough to type it in manually, so they start off their visit to OTF with the front page. New visitors are quite often landing on a particular page specific to the topic they are searching on, however.
The lesson here is to make sure that your Welcome Mat mentality isn't just found on the front page of your site, but is accessible throughout. This can be done both through site-wide links, as well as explanatory links built into articles.
For example, today I added The OTF Glossary to the main navigation bar on my site, so no matter where they land visitors can dip their toe into our cultural waters, and find out the difference between The Bromance and The Brostitsyns.
On the other hand, a case where I've taken a misstep is in my season reviews for various members of the Nashville Predators. In my first post, I took the time to explain the various elements of advanced statistics that are used in each player's review, but I've fallen out of that habit as the series has moved on. A simple edit to include a link back to the explanation should help take care of that. After all, I can't assume that people reading these reviews have started at the beginning of the series, right?
The bottom line is that it's important to understand what sort of visitors are arriving at your site, and how they're actually arriving there. Only once you understand those parameters can you optimize their experience and provide the most value to both your regular readers, and those who you hope become regulars over the course of time.
Just like Joe DiMaggio running out a ground ball to leave the best impression on the baseball fan seeing him for the first time, we online publishers need to keep in mind that we're making first impressions on people on a daily basis. Let's make it our best one.
How might you apply these lessons in your online work? I'd love to get your feedback in the comments below…
Related articles