Are you wondering how to get more followers on Twitter?
Most folks are, because it can be a frustratingly slow process at times. Creating the next viral sensation that launches your visibility like a rocket is insanely difficult, unless you're able to coax a pop superstar into your selfie or find yourself at the center of a major story that catches worldwide attention (good luck with that). You may be tempted to use disingenuous tactics to grow your audience, such as buying Twitter followers; but those are worthless by themselves, even if they give you the appearance of having a large following.
The good news is that you don't have to craft a thriving social networking platform entirely from scratch, or buy Twitter followers while selling yourself out in the process; there are assets out there which you can take advantage of, but you need to go about using them the right way.
A time-tested way to get Twitter followers is to bring fresh, engaging tweets to your existing audience, which they then pass along to their followers, some of whom then will follow you. In the blogging world this is called curation, and it can be a tremendous service to your readers. You can be seen as an expert in your field not only through your own original material, but also by sharing the stuff that you see as especially relevant, eye-catching, or insightful.
There's a right way and a wrong way to reshare other people's content, however, and I want to steer you away from a devious tactic which I'm seeing used increasingly often to get more followers on Twitter: something I call the Sub-Retweet. It boils down to a simple formula:
Retweet + Subtweet = Sub-Retweet
Part 1: Retweets
We all know what a retweet (RT) is, right? Repeating someone else's tweet from your own account, either transparently using Twitter's Retweet function (so it looks like it came from the originator) or via a "manual retweet", i.e. adding your own commentary to the tweet, then continuing with "RT" and the original message, like this:
Answer: Yes. RT @Forechecker: A key question looming over the #Preds: should they trade David Legwand? http://t.co/2vBRUa0iXo by @Preducated

— Jon Garcia (@JGarcia36) February 3, 2014
Sometimes you get people who use the manual retweet method as a way to cheaply put their own stamp on someone else's content. Check here for a good example of that – Joseph Weisenthal, the Executive Editor Of Business Insider, is documented retweeting material with just the prefix "Wow", often more than once on the same day. I can understand somebody doing that on occasion, when something truly remarkable comes by, but in this case it looks like a lazy attempt to gain twitter followers by appearing to be the source of interesting content.
If you want to add your own comment to a tweet before re-sharing it, but there's just not much room to do so, consider an MT instead. The key here is to properly credit the source of your information, even as you share it with your audience (and keep in mind, it's OK to make clear that it's YOU who is bringing it with them).
Part 2: Subtweets
A subtweet is something quite different, however – that's a tweet which refers to someone else without using their Twitter handle, so that the subject doesn't see the message in their Mentions view, and may not be aware at all that they are being talked about. I've discussed subtweets in detail before, but the basic idea is to conceal the true subject of a message. OK, so you know what a Retweet is, as well as a Subtweet. But what exactly is a Sub-Retweet?
Sub-Retweets: Faking Authority
What I am calling a Sub-Retweet (shall we abbreviate that as SRT?) consists of sharing information that originates elsewhere, while deliberately omitting the source. This can take various forms, but the worst of the bunch is when someone simply grabs information and presents it as their own in order to get more Twitter followers by appearing to be a news-breaker.
One example of a field in which such pseudo-experts flourish is sports, where fans have an insatiable appetite for breaking news and speculation about where particular players might be traded.
Check out the following tweet by @NHLexpertpicks, which purports to be a source for the latest in hockey news and insider gambling tips: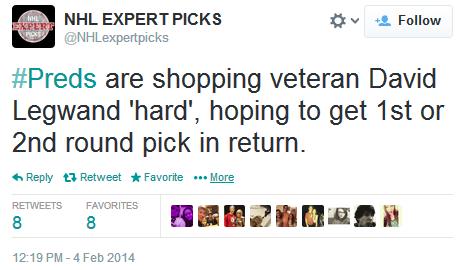 This sure looks like interesting stuff – one would think that @NHLexpertpicks has some inside scoop on the Nashville Predators and their intent to trade David Legwand. Who is this anonymous know-it-all?
In fact, this is just a rehash of an article which had been published earlier that day at TSN:
"The Predators are shopping Legwand hard. The price is expected to be a first- or second-round pick but keep in mind he has a full no-move clause and he will decide whether or not he wants to be a rental or whether he wants to play out the string with Nashville."
That quote comes from Bob McKenzie, who has the most Twitter followers among members of the hockey media (in other words, just about any hockey fan on Twitter knows who he is). @NHLexpertpicks had every opportunity to properly credit @TSNBobMcKenzie but failed to do so, obviously with the intent to appear as someone passing along privileged information to his followers.
Folks, don't do stuff like this. It's tantamount to lying to your audience, which is a terrible long-term move, and a surefire way to engender distrust from others in your chosen field. Unfortunately, it's a common practice among those who seek to portray themselves as primary news sources on Twitter.
How to share content & give proper credit
Here's how I approached that exact same situation – my primary online activity is running a blog for Nashville Predators fans, so McKenzie's tidbit was especially relevant to my audience:
Per @TSNBobMcKenzie, "The Predators are shopping Legwand hard": http://t.co/7NCY4qvmia #preds

— Dirk Hoag (@Forechecker) February 4, 2014
One of the primary tenets of creating content online is to cite your sources. If you don't do that within your tweet, you can do so within any linked article you're directing readers to. Pretending to be a primary source of breaking news may seem like a way to get followers on Twitter, but ultimately it undermines your credibility.