Have you ever read a book that left you thinking more about your own tangential reactions to it, rather than the book itself? That was my experience with Ready Player One by Ernest Cline.
Now make no mistake, this isn't a complaint about the book, which is a remarkably interactive exercise in nostalgia. Competitors race to complete a quest within an all-encompassing virtual universe called the Oasis (think Second Life taken its logical and technical extreme), their task being to solve a series of mysteries buried in 70's and 80's popular culture by the creator of this online world, with the prize being ownership of the Oasis itself. One doesn't just follow along with these characters, however, as instead I found myself often mentally leaping ahead based on references I already knew, while waiting for them to catch up.
From dialogue in the movie War Games to the hidden treasures found in old computer adventures, there is plenty in here for any member of Generation X to latch onto, so much so that you'll find yourself filling in the blanks as long lists of TV shows, movies and computer games are discussed.
For me this set off a number of memory bombs along the way, evoking episodes from my past which I haven't thought about in ages: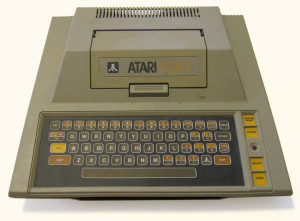 Participating in a computer fair as a 9-year-old (back in 1980 when that was a novelty), demonstrating a prime number generator of my own design running on my Atari 400
My dad starting a little company called Continental Adventures for us to create and sell our own text-based adventure games both through a local computer store and by mail using ads placed in SoftSide magazine (check out Page 25 of Issue 39!)
Using bulletin board systems to participate in model United Nations forums in middle school with kids from around the country, my first experience connecting with other people online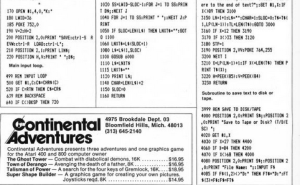 An eerie moment came later on in the book, as the main character walls himself off from the physical world in a windowless apartment, immersing himself entirely in his online adventures. I happened to read that while secluded in a windowless hotel room in Tijuana, Mexico, after spending my evening working remotely over the Internet on servers back in Pennsylvania. How's that for life imitating art?
If you're old enough to remember loading computer programs by cassette tape or placing your telephone handset in the cradle of a modem to connect to a bulletin board, you'll enjoy the nostalgic trip that Ready Player One will take you on.
Even better, it will probably open up long-forgotten memories that branch off from those references in the book, and it's that experience which will stay with you. Heck, I finished it just a couple weeks ago and I couldn't even tell you the name of the main character without peeking, but the memories evoked by Ready Player One have been bubbling in my head ever since.
The Ready Player One Movie
It will be interesting to see how well a Ready Player One movie would play out, as both a coworker of mine and a fellow hockey fan on Twitter mentioned that rights fees for all the brand and product mentions could vastly inflate the cost to produce such a film. But taken from a negotiating point of view, perhaps it's those brands which should be scrambling for the privilege and exposure they'd get from such a project.
After all, just imagine the boom in memorabilia sales and Atari 2600 replicators if a Ready Player One movie succeeds at the box office. With Steven Spielberg listed as the director currently at IMDB, I wouldn't bet against it…